We offer insights to help our sustainability clients craft event messaging campaigns that deliver.
In the environment industry, building the public mindset about the importance of sustainability and other issues is key, unfortunately. There is no better place to do so than at major conferences and events. Our clients focus on such headline-makers as the UN's Climate Change Conference (COP), the Biodiversity Conference, the Aspen Ideas Festival, and the World Economic Forum Conference in Davos. 
But when planning messaging campaigns for such events, our clients wonder: What messaging works? Who should communicate the messages to get maximum impact? How can organizations leverage the news cycle to convey those messages? 
At Arboretica, we provide insights that our clients can use to shape their event-related messaging and communication strategies. We use our proprietary algorithms to analyze news media and Twitter conversations about a specific topic. 
We extract trends, messaging recommendations (down to the word), and influential voices and news outlets. 

Our approach takes less than 2 weeks, includes an exhaustive search that covers millions of conversations, and can be used in multiple languages. 

Our data visualizations make it easy for your team to understand and explore the findings on your own.
In this article, we'll share four ways that news monitoring helps your environmental organization's event-related communication strategies. We'll also highlight a case study about how our work helps plan communication for COP 28.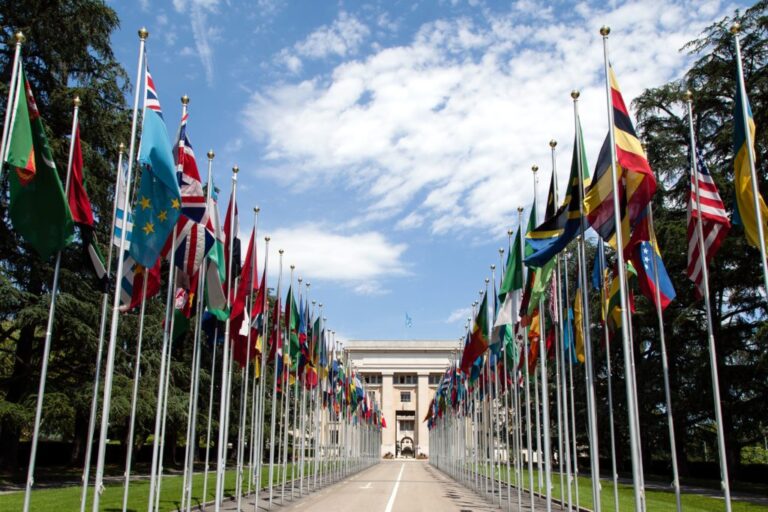 Four Ways News Monitoring Helps Your Environmental Organization's Event-Related Communication Strategies
I'm planning a campaign for a major environmental conference this fall. How do I know what messaging phrases and keywords will generate the most engagement?
When we monitor news and conversations related to specific topics, we use our unique network analysis approach to identify keywords, message themes, and hashtags that get the highest engagement. Your organization can incorporate these findings into your messaging strategy, increasing the likelihood that your campaign will get high engagement. 
For example: You are creating a public awareness campaign about toxic waste before the Global Waste Management Symposium. We can look through media and Twitter conversations in the past 12 months to find message themes with high engagement related to toxic waste. We can also conduct sentiment analysis on the messages to see whether negative or positive sentiment connected to these messages influences engagement. Finally, we can analyze conversations around previous years' Global Waste Management Symposia to see what messaging got high engagement.
I want my campaign to reach the most people possible. How do I prioritize which media to pitch or which influencers to work with during the event news cycle?
Our analysis surfaces key influencers in the media and on Twitter related to your topics of interest. We can identify journalists, media outlets, and key opinion leaders who get outsized reach and engagement. This can be of enormous value to your PR team. Once you know these sources, your organization can pitch or partner with them to amplify your campaign.
For example: You work on deforestation and plan to attend the UN's Forum on Forests. You want your work to get visibility around the conference. We can find the names of the journalists, media outlets, and conversation leaders who have been vocal anti-deforestation advocates and who have high engagement on their messaging in that space. We can also identify which journalists and media outlets got the highest engagement during the previous year's Forum on Forests.
When is the best time to launch my campaign within the event news cycle?
We can identify the best time to communicate your message based on analyzing past events and conversations on the topic. This helps your organization optimize the reach and impact of your campaign.
For example: You want to share new research findings related to air quality in urban areas around the Conference on Urban and Regional Economics. Ideally, these findings would get international attention. We can analyze similar announcements timed at previous iterations of this conference as well as at other international conferences to help you determine when to time the announcement relative to the conference news cycle.
I want to write about topics that people are interested in. How do I get up-to-date information about conversations that are trending, related to my area of expertise?
We can look at detailed trends in conversations over time–imagine a more detailed Google Trends–which can power your organization's research topics, marketing campaigns, social media content, and more.
For example: You want to see trends in topics related to climate change over the past 5 years, which you'll use to determine research areas for your organization. We can analyze sub-topics related to climate conversations to help you pinpoint short-term and long-term trends. 
An Example: Insights From COP 27 Drive Communications Strategies For COP 28​
We analyzed conversations about COP 27, the United Nations Climate Change Conference, to create recommendations for communications strategies for COP 28. We pulled 400,000+ tweets related to COP 27 as well as 3,200+ media articles. Our work covered material in English, French, Italian, and Spanish. 
We started the project with three questions:
What were the main topics discussed at COP 27?

Who were the key influencers during COP 27?

What kind of content drove conversations about COP 27?
By the time we finished our analysis, we found the answers to these questions (which you can read here) and more. The information we gleaned lays the foundation for a valuable communications strategy for COP 28:
We would plan our priority messaging to go out 2 weeks before COP 28 started, since that is when content related to COP 27 got the highest engagement.
Enter Plot script here
2. Shaping the Message Topic
We would create messaging that aligns with the conference's main pillars. To get the most reach for your mission, we would plan for your specific climate topic to be paired with a topic that gets high visibility. 
Enter Plot script here
3. Choosing Keywords for the Messaging
We would conduct analysis on the tweets with the most engagement to find words that performed well during COP 27. The highest-performing keyword was "ambitious," but more analysis could be done related to specific sub-topics.
Enter Plot script here
4. Spreading the Message​
Based on our primary focus area, we would approach the journalists and media outlets who got the most traction during COP 27.
Enter Plot script here
Does your organization need data insights about conversations related to your industry? If so, contact us.